ALBERTO BIANCHIGeneral Manager and Winemaker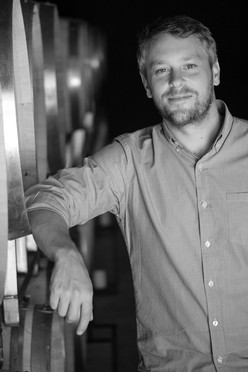 Raised in Milan, Italy, Alberto's passion for the vine and wine began at the age of seven, while helping his grandfather craft Barbera wine in his cellar, wine that the family enjoyed throughout the year. It is not just the act of winemaking that has always been of interest to him, it's also the "romantic and heroic" nature of viticulture in extreme sites that has ignited the passion and commitment to wine that drives him today.
Alberto holds a bachelor's degree in Winemaking and Viticulture from the University of Milan and a double master's degree in Winemaking and Viticulture from the University of Turin and the University of Lisbon. After completing his studies, Alberto travelled extensively throughout Italy, France, Australia and New Zealand, experiencing a variety of cultures and characters and winemaking techniques with the different grape varieties, and honing his craft.
In 2012, Alberto was selected for LVMH's Estates & Wines Early Career Winemakers program, where three up-and-coming winemakers are sent to three countries for three years of intensive training and development. He began in Argentina, as Assistant Winemaker at Terrazas de los Andes, followed by a year at Newton Vineyard on Spring Mountain, Napa, before his final rotation at Cloudy Bay in New Zealand, where winemaker, Tim Heath, became a mentor. "Tim taught me the importance of being respectful of the Terroir you are working with, understanding it rather than force an outcome from it."
Upon completion of this three-year program, Alberto returned to Newton in 2016 as Head of Winemaking. Today, he possesses the same boyish wonder that he felt as a child assisting his grandparents in Italy. His quest is to translate the beauty, nature and elements of ADAMVS' profound and geologically diverse site into elegant wines that will evolve through time.
"Wine is a synonym for culture: it is the pure expression of the land, the soil, the climate and the people. It's with great pleasure that I start this amazing journey on Howell Mountain."