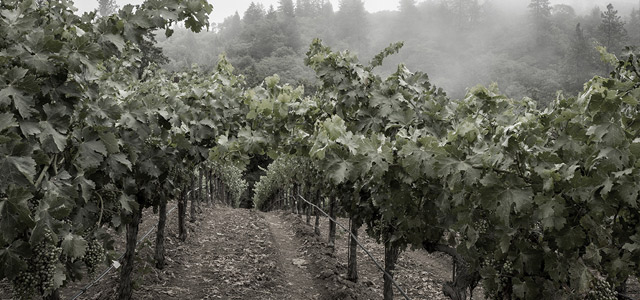 Located on the forested heights of Howell Mountain,
ADAMVS Estate rises above the fog that often
blankets the valley floor below.
It is a landscape of light and shadow, where mountain meadows, fir and oak forests, and lovingly tended vineyards reflect an honest rapport between man and nature. This landscape is the essence of ADAMVS, and the palette from which we craft our wines.

Amidst this idyllic setting are the Cypress House and Wine Library - intimate structures that, like a great wine, engage all the senses. Designed by architect Kurt Melander, these iconic structures combine modern and classic elements, seamlessly blending cypress, glass, steel and concrete to create spaces of nuanced beauty that are experienced differently depending on the season, time of day, light, and all the natural elements that make Howell Mountain an ideal home for Cabernet Sauvignon.