June 20, 2016 | ADAMVS Estate
Summer Solstice News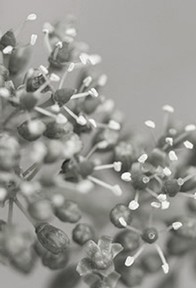 Greetings from Howell Mountain! As plentiful winter rains continued into spring this year, rejuvenating soils once depleted by drought, we as a community of farmers in the Napa Valley have enjoyed verdant landscapes replete with dense cover crops, abundant wildflowers, butterflies and high expectations for the unfolding vintage.

At ADAMVS, our estate advances more slowly, in tune with its unique microclimate, diverse soils, exposures and mountain elevations. The onset of each new vintage requires patient observation, dutiful care and timely action. As the vines progress through budbreak and begin growing vertical shoots and leaves, they also begin forming the stems that will ultimately develop and cradle each cluster of fruit.

The start of this month marked an important stage in fruit development—bloom. The annual flowering of the vine is one of the most critical times in our growing year. The successful pollination of a single flower yields just one berry on a given cluster. It is an exciting time, as it holds great promise and our first glimpse into the potential yield, and more importantly, the quality of the vintage. It is also a time of uncertainty as strong winds, rain or a late season frost can damage the delicate flowers. This year we were blessed with idyllic conditions: warm days, cool evenings and gentle breezes resulting in a beautiful fruit set and start to the vintage.

On the farm, while we patiently awaited the coming of bloom, we shepherded our sheep and chickens from one vineyard block to another to mow and cultivate the land. Orchards were pruned, winter beans and honey harvested, summer gardens and insectaries planted and planning commenced for the Fall release of our eagerly awaited 2012 vintage.

We have much to be thankful for this year and are honored to be able to share these special moments with you.