March 21, 2017 | ADAMVS Estate
Spring Equinox News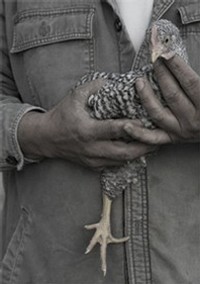 Greetings from Howell Mountain! As abundant winter rains delivered us from a long standing drought and the clouds yielded to blue skies and warm days, we pause to celebrate the coming of spring and the promise of a new vintage.
Awash and awake, thick mats of cover crop blanket the vineyards, providing protection and nourishment to the soils and vines. The hillsides and valleys are alive with color, verdant greens, ochers, and lavenders. With the passing of each day, we watch as signs of spring reveal themselves—the bloom of our first poppies and daffodils, completion of winter pruning, and the birth of spring lambs and chicks.
Eggs in shades of green, tan, blue and brown are harvested each day, while our chickens wake to important work ahead. Heirloom breeds of Araucana, Rhode Island Red, Plymouth Rock, and Wyandotte head into the vineyard each morning to play an essential role in the life and health of our farm. Scratching, pecking and foraging their way through the vineyard rows under the close watch of our statuesque Dominique rooster. Breaking up topsoil, keeping the insect population in balance and participating in the natural cycles of the season.
In addition to the great entertainment our sheep, chickens, dogs and bees provide, they are also important members of our farm. Each with defined roles and contributions that ensure the estate's greatest health and highest quality. As we walk the rows and blocks watching each vine go through bud break, we are honored to work alongside these companions as we head into a new vintage.
We hope this letter finds you well and that your travels will permit a visit to the estate and the opportunity to join us as we steward this precious land.