September 22, 2016 | ADAMVS Estate
Fall Equinox News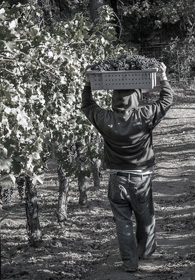 Greetings from Howell Mountain! As the laughter of children return to the schoolyard, long summer days yield to cooler evenings, and we enjoy the last of our heirloom tomatoes, we write to share news from the Estate and announce our upcoming release of the highly anticipated 2012 vintage.
Following several years of atypically cool weather in the Napa Valley, 2012 exhibited all the hallmarks of a truly special vintage and all that we could hope for as winegrowers. Our vines awoke early to near perfect weather conditions—above average warmth, sunshine and heat, which continued throughout the growing season maturing the vines through bloom, veraison and on to harvest without any significant heat spikes or rain.
Excessive heat can dehydrate the fruit, cause the berries to raisin, and inflict stress on the delicate health of the vine. At ADAMVS our unique microclimate high on Howell Mountain buffers our exposure to these extreme temperature in the most challenging of years, but in 2012 we experienced only the most beautiful long warm days, gentle breezes and gradual and even ripening of each of our unique vineyard blocks—which allowed us to pick each block, row and vine at its optimal time.