October 1, 2015 | ADAMVS Estate
Autumnal Equinox News
Greetings from Howell Mountain!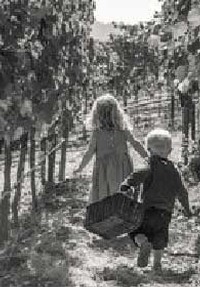 As the figs, plums and apples ripen in the orchard, bees forage among the wild flowers, and harvest rapidly approaches the mountains and hillsides of Napa Valley, we take a moment to share news from the Estate.
While the Valley is alive with all the excitement and energy of harvest, from trucks both large and small delivering barrels and fruit harvested that morning, to late night sorting on the crush pad and festive harvest parties—on the mountainside we remain stalwart, patiently monitoring the ripening of our fruit and anticipating the first pick of the vintage.
Sugar, acid, phenolic content and pH are monitored daily and balanced with the sensory considerations of how the grape skin feels in our fingers, how seed appears to the naked eye, and ultimately its taste on our tongue. So many describable and indescribable factors play into this single decision, made each day for every block, subblock and cluster of fruit on our Estate. Our oldest vines, planted nearly 26 years ago, may be picked in a single pass or over a period of three weeks this year, based entirely on what the vintage has provided.
Each pick delivers fruit of unique character, from those grown high on the hillside in the deep iron-rich red soils our name ADAMVS derives from, to the 26 year old Martha's Vineyard clones growing 500 feet below in powdery grey volcanic ash, often called Tufa. Each pick and cluster has a defined personality, which combine to produce just three wines TÉRES, QUINTVS and ADAMVS.