February 1, 2023 | ADAMVS Estate
ADAMVS AT PREMIERE NAPA VALLEY
This past Saturday, The Napa Valley Vintners association held its annual Premiere Napa Valley barrel auction, where ADAMVS presented a special auction lot of 5 cases of 2012 ADAMVS "Borne" Estate Cabernet Sauvignon. The winning bid for this Howell Mountain Estate lot, which noted wine critic Alder Yarrow of Vinography rated 9.5 out of a possible 10, was $20,000.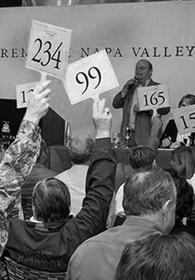 "Every year, I get a chance to discover new things at this tasting, and this year I was especially pleased to be introduced to two new winery projects: Lateral and ADAMVS, both of whose wines were quite impressive. I look forward to getting to know their work further, and encourage you to seek them out.
2012 ADAMVS "Borne" Cabernet Sauvignon, Howell Mountain. Inky purple in the glass, this wine smells of juicy, floral, and mouthwatering cherry fruit. In the mouth dark, juicy cherry fruit has a fantastic freshness thanks to outstanding acidity. Outstanding." Alder Yarrow, Vinography. 2014.

This year's Premiere Napa Valley brought in a record $5.9 million, in just over three hours of spirited bidding at The Culinary Institute of America at Greystone. Proceeds will go to further the Napa Valley Vintners mission to promote, protect and enhance the Napa Valley appellation, its wines and its community.